Jackson Child Custody Lawyer
Establishing Visitation, Parenting Plans, & Child Custody in Clarksville, TN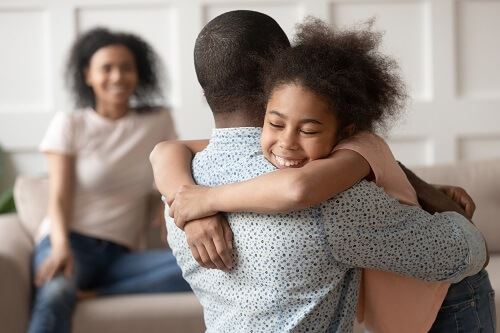 Divorces can bring out stress and emotional turmoil in individuals. If you share children with your spouse, child custody matters will likely cause heated disputes.
It is important that you do not take any hasty actions or make decisions while you are upset. Instead, speak with our child custody lawyers in Jackson, TN, from Casey, Simmons & Bryant, PLLC, who can help guide you towards the best decisions.
Contact us online today and set up a free consultation.
Our child custody lawyers serving Jackson handle custody and visitation matters, including:
Visitation plans
Custody modifications
Custody in divorce
Custody in separation
Custody in paternity
Understanding Custody Arrangements in Tennessee
There are two types of custody in Jackson, TN:
Physical custody, which determines if parents have a right to house their child; and
Legal custody, which determines if parents have a right to make decisions for their child, such as where they go to school, what kind of medical care they receive, and more.
Parents determine how they will share legal and physical custody of their child using a parenting plan. The parenting plan contains details such as:
What days of each week or month the child will spend with each parent
How the parents will handle holidays
Where the parents will exchange custody
Behavioral boundaries the parents should abide by while caring for their child
If parents agree on a child custody arrangement, they can draft a parenting plan together. After signing the plan, they can present it to a court, which can then finalize the custody arrangement by approving and signing the plan.
If parents do not agree on a child custody arrangement, they may have to attend a court hearing. After hearing each parent's case, the court will determine what kind of parenting plan would fit the child's needs.
How Do Courts Handle Custody Cases?
In any custody case, the court's primary concern is the child's wellbeing.
Parents typically set up custody arrangements in one of two ways:
Joint custody. In a joint custody arrangement, the child may spend time living with each parent. Whichever parent houses the child a majority of the time is the "custodial" parent and gets head-of-household rights. The other parent is the "noncustodial" parent.
Sole custody. In a sole custody arrangement, only one parent houses the child. The other parent may be able to see the child through visitation or be barred from visiting their child depending on the details of the case.
When courts handle custody cases, they consider the following details:
The child's relationship with both parents;
Both parents' history with the child and previous roles as caregivers;
Whether the child has any siblings or extended family members who will be impacted by the custody arrangement;
The child's physical, emotional, and mental health;
Each parent's finances and quality of life, including their work schedules;
How the child's life would change in various proposed custody arrangements;
How a proposed custody arrangement could impact the child's current living situation;
Whether either parent has a history of domestic violence or abuse;
The child's preferences, if they are 12 years old or older and have the capacity to make decisions for themselves as judged by the court;
How a potential custody arrangement would impact the parents; and
Any other factors the court considers relevant to the case.
If the court deems that one parent is "unfit" - typically due to behavior such as domestic violence or substance abuse - it may award the other parent sole custody, restricting the unfit parent to visitation rights or preventing them from seeing their child altogether.
The number of factors that can impact a custody case makes it absolutely imperative for parents to have reliable legal counsel by their side as they navigate custody battles. Our Jackson family law attorneys have experience dealing with custody disputes and can help you and your child find the best path forward in your case.
Protecting Your Children's Best Interest
Our child custody lawyers serving Jackson, TN understand that divorce can have a serious impact on children, especially if both parents are fighting over who will have custody. It is very important that you try to put your own feelings aside and make decisions which will benefit your children. We strive to resolve family law disputes between you and your spouse in the most amicable manner possible.
Although it is always preferable if you and your spouse can reach an agreement out of court, we are prepared to represent you in litigation. If the decision is left up to the judge, he or she will be responsible for deciding who has primary custody or if custody will be shared. The judge in the Clarksville family court or Jackson family court will also decide the terms of your visitation or parenting plan schedule.
Can a Child Refuse Visitation With Non Custodial Parent?
If you disobey the child custody order, a judge might find you in contempt of court. As a parent, you likely force your children to carry out numerous tasks, such as brushing their teeth or eating all of their vegetables, which they probably attempt to resist. It is your duty to also ensure they are reasonably available for visitation.
That said, a judge might be somewhat understanding if the refusing child is a teenager since it is substantially more difficult to make older children cooperate. To avoid suffering any negative repercussions, contact your co-parent to discuss the situation. You might also want to consider inviting him or her to speak with the children.
At What Age Can a Child Stop Visitation With Non Custodial Parent in Tennessee?
Legally, when your child reaches age 18, they are adults and can stop visitation with a non-custodial parent in Tennessee. Adults can decide whom they want to spend time with. You will not be capable of forcing your child to continue to see you. The family court will no longer be able to enforce possession or visitation clauses over an adult.
If a judge does not believe you made the children reasonably available for visitation, or that you somehow contributed to the situation, you will face some serious consequences. Protect yourself by saving all correspondence with your former spouse, including texts and emails regarding your children's refusal and any measures you took to try to facilitate visitation.
Find Out Why Your Child Doesn't Want to Visit Non Custodial Parent
If your children are refusing to visit their other parent, it would behoove you to find out why, especially if this is a sudden change in their usual behavior or attitude toward their other parent. Something might have occurred in your co-parent's environment, which might have made your children feel uncomfortable. Perhaps your former spouse has a new partner and your children do not like being around someone new. If you believe something worse is behind their refusal, however, you should contact our visitation lawyers immediately.
Does Adultery Affect Child Custody in
Tennessee?
Committing an act of adultery has the potential to have negative effects on child custody orders. This is because a judge will always rule in favor of what is in the best interests of the child(ren). If the affair stripped resources from the family, affecting the welfare and well-being of the child(ren), you can expect the court to limit your custody or visitation privileges.
The consequences of adultery may also extend to issues pertaining to child support and alimony. If you have been accused or adultery, or are dealing with an unfaithful spouse, you need to contact our law firm immediately.
Contact a Child Custody Attorney in Clarksville and Jackson Now
Our family law attorneys are extremely compassionate and well-versed in the area of custody issues. We are prepared to provide you with personalized attention and aggressive representation to ensure your child's best interests are protected.
Our Promise
Here's What You Can Expect From Our Firm
Caring Counsel

At our firm, we understand that you are going through a difficult time. We will guide you through this process with compassion and experience.

Personalized Approach

We understand that every case is unique. Our firm provides personalized attention and unique strategies for each case in order to achieve the most favorable results.

Fierce Advocacy

When you work with our firm, you will have advocates on your side that are ready for any circumstances and are not afraid to take your case to trial to secure favorable results.

Decades of Experience

Our firm offers more than 30 years of combined legal experience to advocate for you. Each of our attorneys will bring their insight and to your case.