Property Division in Tennessee
Protect Your Assets With Help From Our Jackson Property Division Attorney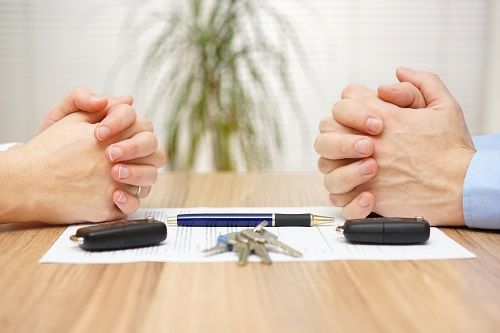 If you are getting a divorce in Tennessee, you must know what property is considered marital property and how it will be divided between you and your spouse. If you and your spouse can agree with how property, assets, and debt are distributed amongst each party, you can determine the terms of the agreement. However, if you are not able to reach an agreement, the judge will decide what property each party receives based on several marriage factors.
At Casey, Simmons & Bryant, PLLC, our Jackson property division lawyers are committed to protecting your rights and best interests. We will work hard to preserve your financial investments and give you a fresh start in the next chapter in life.
Questioning how is property divided in a divorce in Tennessee? Contact us to schedule a free consultation with a Tennessee property division attorney today!
How is Property Divided in a Divorce in Tennessee?
If you and your spouse come to an agreement with regards to how property is divided, then you can make all of the decisions. Your agreement needs to be documented in a Marital Dissolution Agreement.
But if you cannot come to an agreement, you will have to go to court for a judge to determine an equitable distribution of your property. Equitable is defined as a fair, reasonable, and just. However, equitable does not mean equal, so a judge can order one spouse to receive a larger share if the evidence suggests that it is a fair distribution.
The following are the factors a court considers in dividing a couple's property:
The duration of the marriage
Age of each party
Physical and mental health of each party
Vocational skills, earning capacity, and employability of each party
Each spouse's contribution to the acquisition, preservation, appreciation, or dissipation of the marital or separate property
Each spouse's contribution to the education, training, or increased earning power to the other
The value of each spouse's separate property
Each spouse's estate at the time of marriage
Each spouse's retirement benefits, pensions, stocks, 401(k) plans, and Social Security benefits
The economic circumstances of each spouse at the time property division is to become effective
What Is Considered Marital Property in TN?
Marital property is defined as any assets or property acquired by either spouse during the course of the marriage, which may include:
Homes and vacation properties

Cars

Retirement accounts, including pensions and 401(k)s

Bank accounts and cash

Stocks and other investment accounts

Businesses
Is a House Bought After Marriage Marital Property?
A home acquired during the marriage belongs to both spouses, even if the home is only titled in one spouse's name. If marital assets were used to purchase, maintain, or improve the home, it is considered marital property.
Who Gets the House in a Divorce?
During a divorce, one of the most controversial and complicated matters to resolve is who will get the marital home. Oftentimes, this home is the most valuable asset in a divorce and carries a lot of emotional weight with it as well. Selling the marital home can be an incredibly life-changing event, which is why it is important to settle the reasons of keeping your home early on.
Children are the first and foremost reason many people want to keep the marital home. Divorce can be traumatizing enough as it is, and being forced to move to a new place in a new neighborhood can cause a lot of strife in the household. Coming to an amicable agreement with your ex-spouse regarding your children's living situation is crucial to making the divorce as seamless as it possibly can be.
Sometimes, people get incredibly emotionally attached to their martial home for a number of reasons. The obvious reason, of course, are all of the memories shared in the home, as well as all of the time and energy put into creating and decorating the home of your dreams. Secondly, people often don't like giving up their marital home because it has been in their family's ownership for many, many generations.
If you and your spouse cannot come to an agreement about how to settle the marital assets, including your home, the next step is to take it to court where a judge will determine who is best fit to take on complete ownership of the house.
Unfortunately, ex-spouses may sometimes try to keep the family home simply out of spite. Divorce isn't always a positive experience, and taking the home away from an ex because of control, vindication, or greed can occur, too. Singlehandedly taking on your ex-spouse drastically slims your chances of getting what you want out of the divorce. However, with the help of our team from Casey, Simmons, Bryant, PLLC, you can rely on the help of an experienced and determined Jackson property division lawyer who will work tireless to prevent this from happening.
How Is Debt Divided in a Divorce in Tennessee?
In a Tennessee divorce, a couple's debt is divided much like their assets—equitably. However, it also depends on the situation. For example, the judge may award the lower-earning spouse with less debt than the higher-earning spouse or, if one spouse mishandled the assets, the judge may assign the entire debt to him or her.
Contact Our Jackson Property Division Lawyer Today
You have too much to lose and everything to gain by consulting with a lawyer. Our Jackson property division attorney can review your divorce and determine all of your available legal options in order to obtain the most favorable outcome possible.
Don't hesitate to get the help you need when dividing property after a divorce in Tennessee. Contact usto request a free consultation with our Jackson property division lawyer today.
Our Promise
Here's What You Can Expect From Our Firm
Caring Counsel

At our firm, we understand that you are going through a difficult time. We will guide you through this process with compassion and experience.

Personalized Approach

We understand that every case is unique. Our firm provides personalized attention and unique strategies for each case in order to achieve the most favorable results.

Fierce Advocacy

When you work with our firm, you will have advocates on your side that are ready for any circumstances and are not afraid to take your case to trial to secure favorable results.

Decades of Experience

Our firm offers more than 30 years of combined legal experience to advocate for you. Each of our attorneys will bring their insight and to your case.